The smooth, cold tiles of my bathroom floor felt great on my forehead. Did I get here from showering? I thought that was a while ago.
I laid there for some time. Then something, maybe fear, pushed me to get to my phone on my bed. Those giant, last reserve energy pushes are something I can never describe to a healthy person.
I called my partner Ben who I had just been texting. I told him he needed to take me to urgent care, that I was dizzy and couldn't walk. I called my sister and said Ben was coming. I had to hang up on her when I started puking on my bedroom floor.
That's where Ben found me.
Ben thought I had food poisoning. At some point after Sarah showed up, I found the giant lump on the back of my head and we pieced it together. The storyline, not my head, which was thankfully still intact.
I was making some stressful and irritating phone calls. I had a headache after. I cried about the call's outcome. Unemployment once again telling me they have no idea when I will get paid after 6 months of waiting.
I took a shower and laid down. The next thing I knew I was laying on the ground. I must have fainted or slipped.
Every time I tried to move I thought I would die. I would writhe and consider throwing up more. My service dog puppy Pepper Ann was snuggling me on the ground. Then she would curl into me, like my fate was hers. She's sleeping on me as I write this.
It's America, so we couldn't figure out where I could get care. I have Badgercare (Wisconsin Medicaid). I switched my Medicaid HMO to Dean to get one of my specialists covered. I didn't know at the time that would end my UW access, the main hospital in Madison.
American Healthcare's 3rd Law:
For every action to get care, there is an equal and opposite reaction.
I am puking on the floor and unable to get up, and my sister is digging through random papers because Dean never sent me an ID card. I'm vaguely aware she's making calls in my living room.
I don't want to go anywhere else than the UW where most of my doctors are. I don't know how long this went on, but eventually we tried to get me upright and I still couldn't stand.
So my sister called 911.
They were here so fast, I was begging Ben to help me get a shirt back on before they saw me. I had taken off the one I had puked on.
They put me in a blanket to get me to a stretcher.
Feeling the weight of my body sink into this blanket was the most relaxed I've felt in a long time. Just letting these men I didn't know carry me without even being able to see.
Ben found my glasses and phone. He ran them out to me and put warm socks on my feet before we left.
I rode in the ambulance alone. I babbled at everyone because that's what I do when I'm nervous. And to be honest, when I'm not nervous. I was scared, I had thought I was dying.
I told them I was an assault survivor. They made sure to tell me what was happening before they touched me.
They asked me at one point who I wanted back with me, because I could only have one person. I waffled a bunch, this was a hard ask. I picked Ben, because Sarah is afraid of needles. I didn't know that Ben was the only one there because Sarah had taken Pepper to her apartment for her friend Bea to watch.
A lot of behind-the-scenes action happens when you're seriously injured. I never have been before.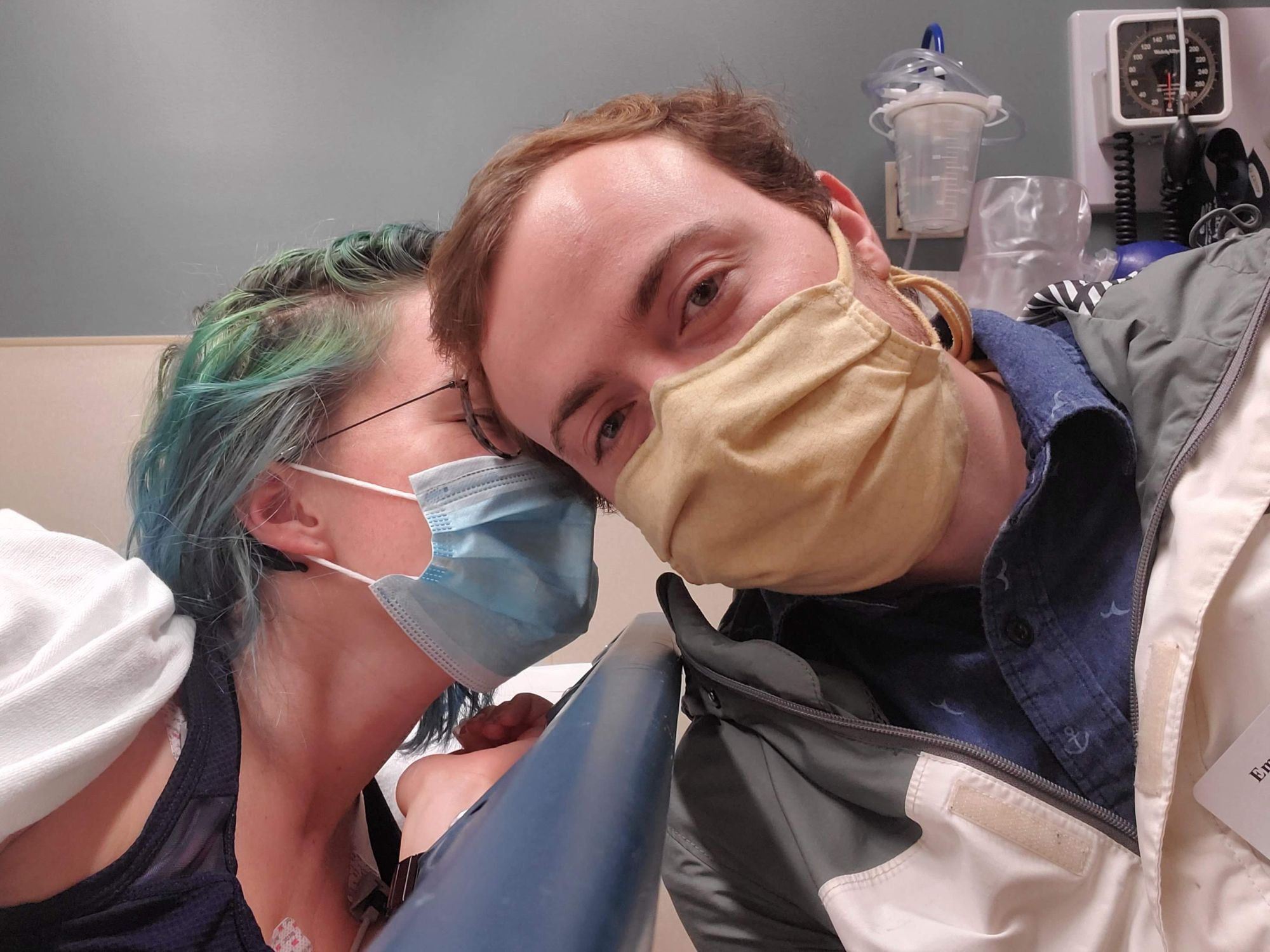 About 5 hours after my concussion, I got to go home. My CAT scan and EKG were clear. At first, I even resisted getting in a wheelchair. Internalized ableism is a battle that never ends. Especially in a body who's needs are constantly shifting.
Sarah got cleaning things and Culver's for us. She cleaned up my floor. I felt so bad, but so grateful to have them both helping me.
Ben stayed with me for a few days and took care of Pepper. He made sure I didn't fall again. I've been off stimulants since, the longest I've gone without in years. While in the middle of a move no less. I'm walking and doing my absolute best to pace myself. The world doesn't stop for anyone though.
I'm not sure I can say I'm a 100% as I wasn't a 100% before this. I can say I'm better and taking it one day at a time.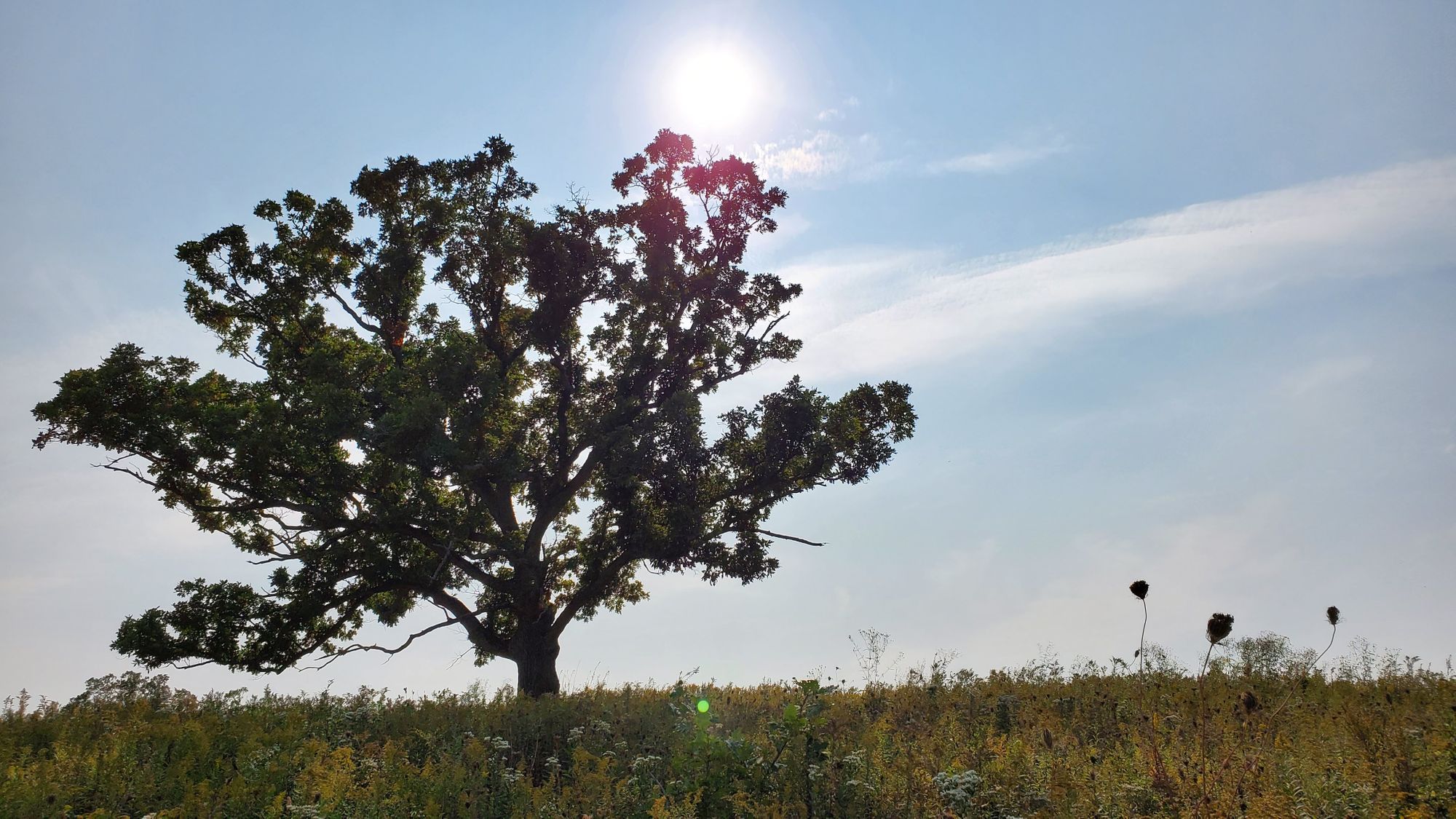 So, yeah, I fainted for the first time ever and hit my head. I feel like a white lady from an old time-y film crossed with a medic alert infomercial. 😅
There's been a bunch of areas of my life that I don't have much control over, that intersect with the pandemic in awful ways.
Housing, unemployment, Medicaid... At the same time I've been trying to be an activist/advocate. Donating, writing letters, protesting, learning, volunteering. It's too much and not enough.
I actually thrive on stress, like a lot of people with ADHD or PTSD. But not this kind of stress. Not this kind of helplessness. Like being trapped as a child all over again.
I asked two of my closest people, to just let me die because it would be easier. Easier than trying to keep navigating these systems. I didn't harm myself and I'm not actively suicidal, but my first feeling was relief.
I can't get past how strong that relief was. For a moment, I thought I could just stop trying so hard to survive as a disabled person in this country. I still try to pretend I'm healthy all the time, because I am less sick than I was. I don't know how to be honest with myself and others about the reality of my health.
Chronic illness is a damn journey.
My brain was already a lil scrambled so I'm not too worried about that. Being disabled itself is hard, but it's not the hardest part. The hardest parts for me are the systems and the toll they take on myself and the people who love me.
I'd like to thank those people, especially Ben and Sarah. For getting me through this and dealing with a hella scary situation. As well as everyone who offered support, sent me well wishes or memes.
Pepper Ann still has a lot to learn as a service dog, but she was so calm and well behaved during all of this. I have a lot more hope for when she's past puppy adolescence.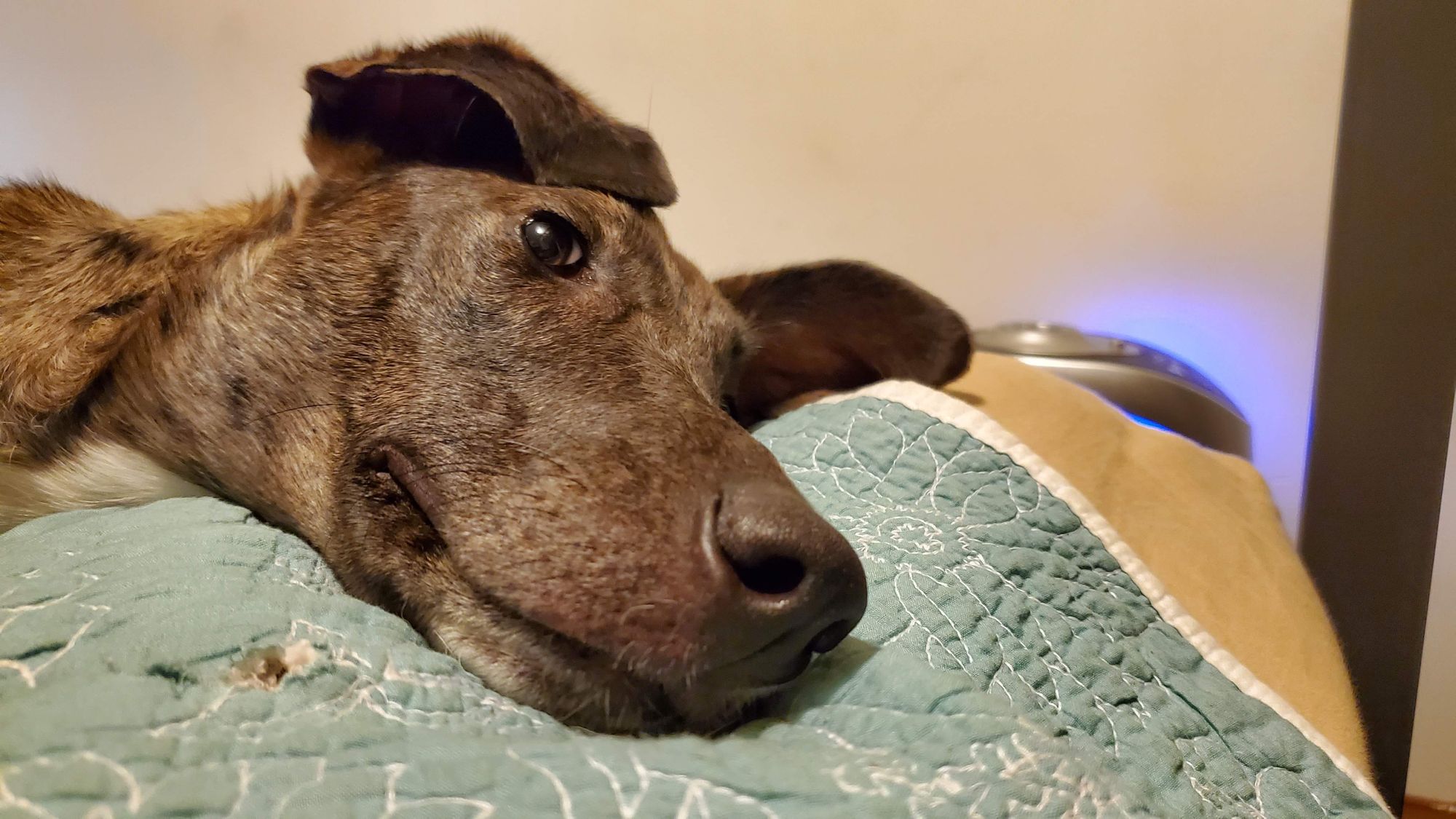 ---
I don't feel any better knowing there are 3,000 Wisconsinites who've been waiting just as long. I've decided to rabble rouse where I can and try to learn patience where I can't.
You can read my email to Governor Evers office below.
Hi,
I can't tell if the form was submitted on the assistance website. I also left a voice-mail at the Madison office.
I've been waiting since March to get unemployment. I have not received any money.
I won an appeal hearing in July. I call at least once a week. I'm told there is no timeline on when the issues will be resolved that are preventing me getting paid. I frequently get extra appointments, people talk to supervisors, and then no one ever calls me back.
I need to get paid. Even if it's not the full amount, which is over $20,000 at this point.
Can you please appoint an advocate or something to intervene? The stress dealing with this has been so bad, I fainted and got a concussion 2 weeks ago after a long set of holds and talking to people at UI. I have existing health issues and I really need help.
There's not much I can do about this anymore. Please help.
Thank you,
Kaitlin Marquardt